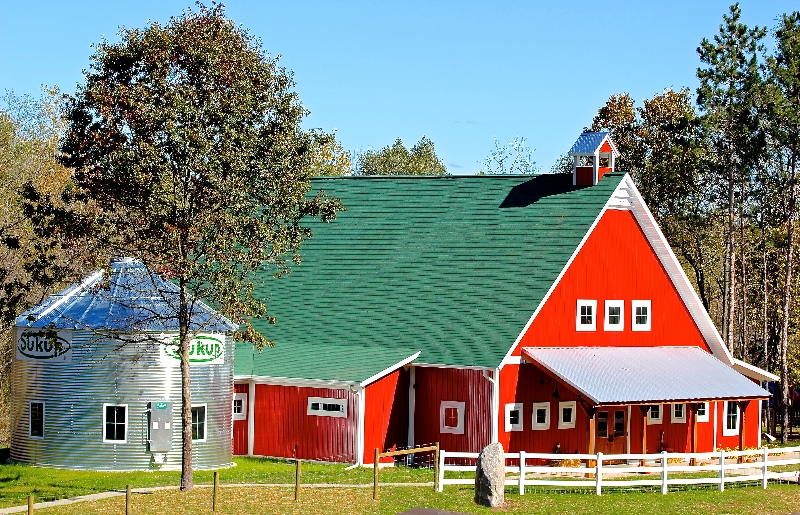 Our 11 acre farm
---
Our 11 acre farm, with its woods, nature trails, fields, gardens, barnyard and schoolhouse, provides opportunities for a vast amount of meaningful first hand learning experiences. Our 3 hour days may include activities such as planting bulbs, tracking wild animals in the snow, watching baby animals grow and caring for all our farm animals. Observing insects and their habits, making our own butter and applesauce are also part of our program.
Individual growth
---
Individual growth in the self, social and cognitive areas is stimulated through varied activities, including creative dramatics, arts and crafts, music experiences, puppet plays, creative movement and science experiments. Pre-readiness reading, writing and math skills are presented in a relaxed, fun appropriate format to match varied developmental needs. Special activities like horse rides, cookouts, hikes, and scavenger hunts provide added variety to our unique learning programs.
Our philosophy
---
Our philosophy is to help children gain love and respect for our world. It is our hope that they will develop responsibility for all living things, including their peers. We believe children can learn about their community and about humanity outside, as well as, inside the classroom. Learn more about our class sessions or enroll today!
History
---
Canterbury Creek Preschool was established in September of 1975.  The first year enrollment was 11 students.  The popularity of the school became obvious with enrollment growing to 72 students by September of the following year.  The original location was on M-21 just east of the village of Ada.  This location provided the start of Canterbury Creek's trademark farm school setting.

In 1977 a farm site with room to expand the enrollment and offer more outdoor opportunities to students became available, so the school was moved to 5931 Ada Dr. in Ada.  At this location, approximately 3500 students enjoyed all this site had to offer.  With a larger school house, barns, pastures for all the animals, wooded nature trails, things were good.  This location served its students very well for 34 years and many fond memories were created.  We are reminded of this every year by many of our parents who once attended Canterbury themselves as preschoolers!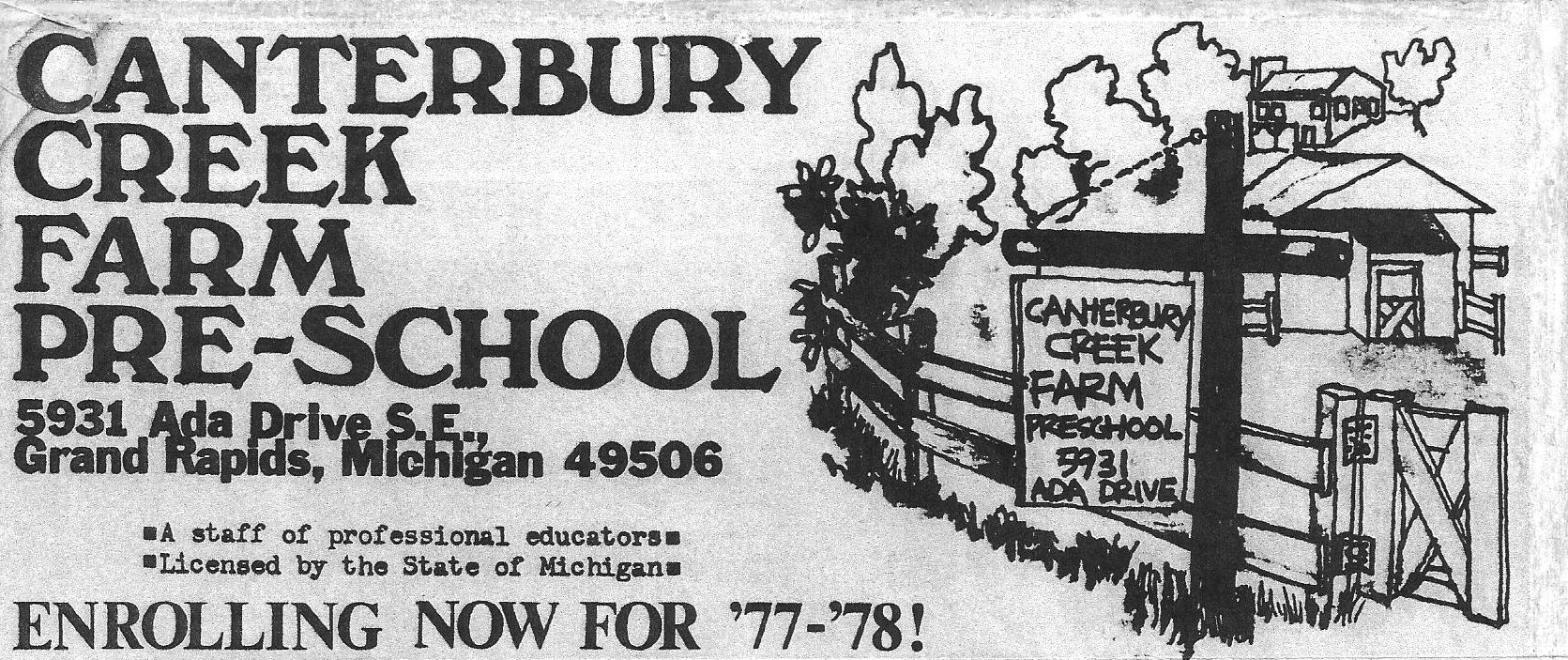 2012 again brought "Farm School", as it is often referred to, an opportunity to move and grow, so we did, allowing our school to move forward into the future.  A large wooded parcel next to a beautiful horse and cattle farm in Ada was purchased.  This new site at 6555 Grand River Dr. was built specifically for Farm School.  A new school house with many unique features such as an indoor animal stall having large viewing windows into our classrooms, and an art room built from a grain silo.  Our barn is also equipped to handle our Holiday programs and plenty of room for gross motor activities.  A new goat bridge over our driveway along with living quarters and a new chicken coop were constructed.  New nature walking paths were cut through our woods, and a large play area complete with boulders, log walks, boulder sand boxes and more were built for outdoor exploration.

Construction started in April 2012 and was completed after 5 short months and lots of hard work by many individuals.  Canterbury Creek held its first classes the first week of September.  This new larger facility allowed Canterbury Creek to expand our preschool curriculum for the first time to include a new young 5's program.  This new location allows Canterbury Creek Farm Preschool to continue its long history of producing well rounded preschoolers bound for their next big adventure, Kindergarten, and well into the future.