Welcome to Canterbury Creek Farm School blog.  We hope to post a few highlights from each month on here.   Please note that much more goes on than what is photographed, this is just a sneak peek at a few things that we enjoy.
During the M/W/F afternoon class Mrs. Cooke brought in her 3 baby hedgehogs, a bearded dragon, a baby tortoise and a chameleon.  The students enjoyed petting and learning about each animal.  If you are interested in becoming a hedgehog owner, Sarah Cooke is a breeder. Check out their website: www.pinsandneedleshedgehogs.com
Last week all of the students rode Taloulah for the first time this year. Everyone enjoyed her and liked how "bouncy" her walk was.  Thank you Mr. T and Mr. Hettinga for helping us ride!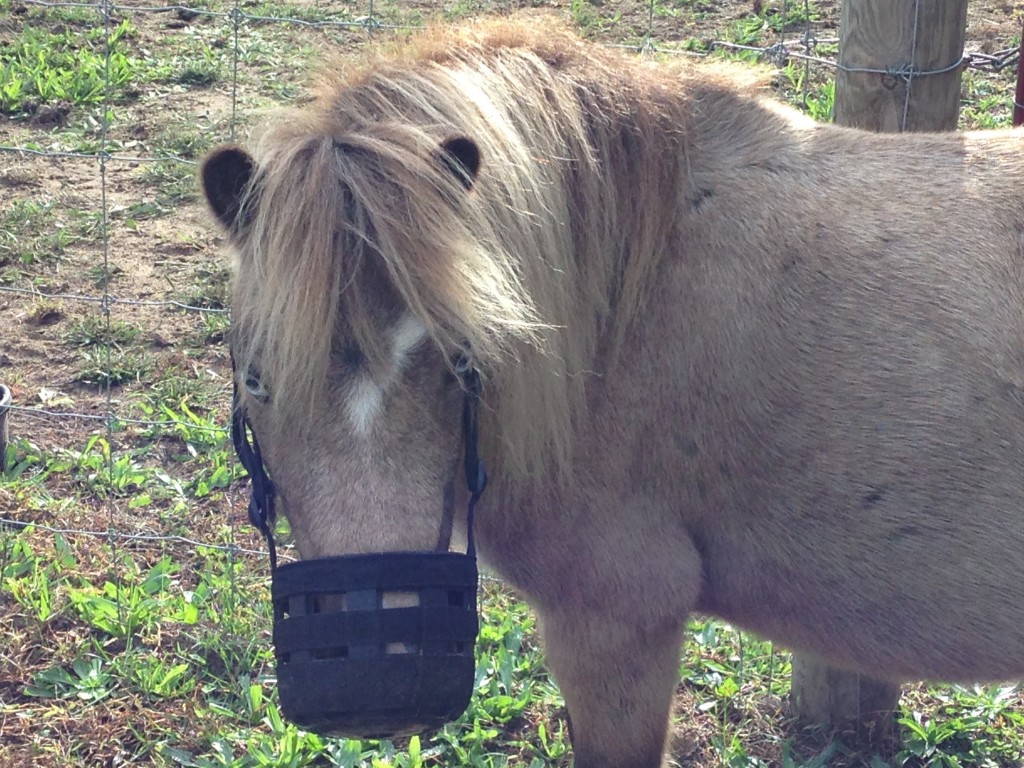 Wondering why Storm has a muzzle on sometimes?  Well, Storm really enjoys his food and sometimes he eats so much he gets a stomachache.  This is called a "grazing muzzle" he can drink water and eat through it, but just not as fast.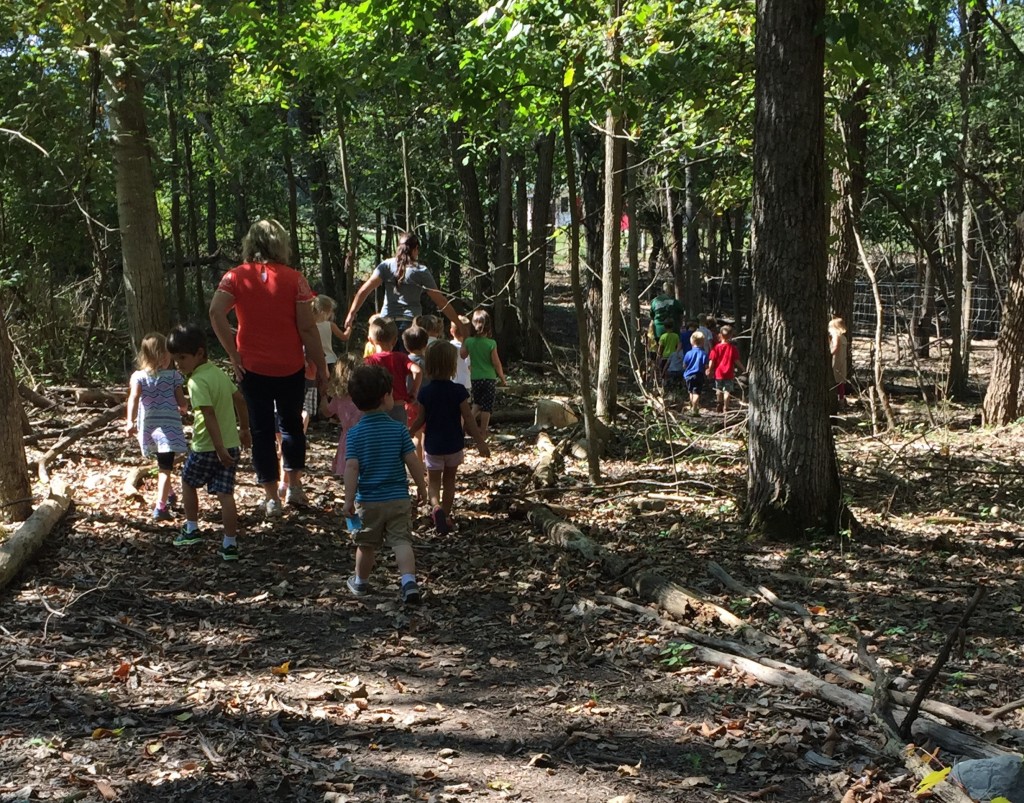 During the first few weeks of school we explored our nature trail behind school.  We made observations on everything in the forest, we also sang songs and read books in the woods.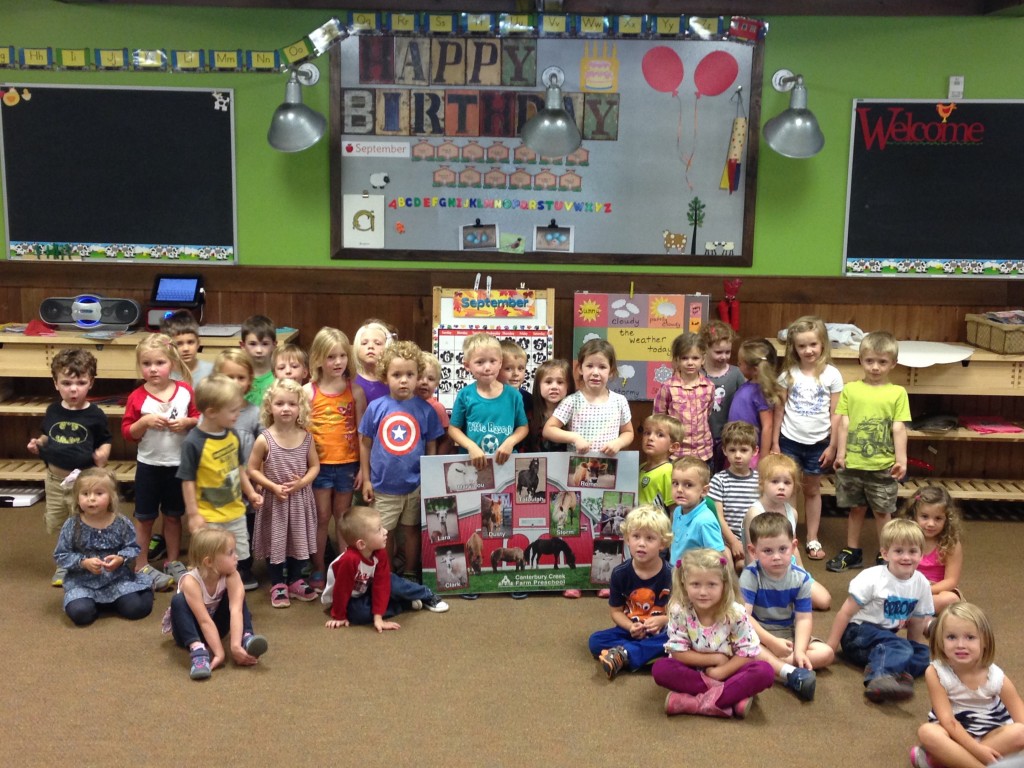 Mrs. Harlow's husband, Rob Harlow made us this beautiful collage showing all of the animals and their names.  Thank you Mr. Harlow from Fast Signs and thank you Betsy Schipper Photography for the beautiful pictures!
During the Tuesday/Thursday afternoon class, Mrs. Mann brought in 6 of her baby Holland Lop Ear bunnies.  The students adored watching them hop around and petting each one.  After meeting the bunnies we played "What time is it Mr. Fox?"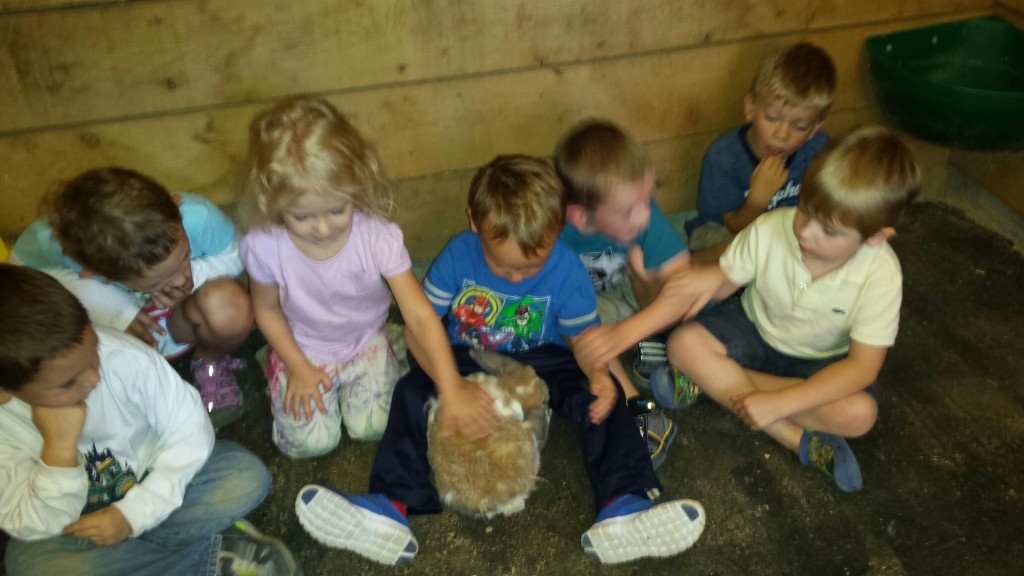 The Young Fives students have been taking great care of our rabbit, Mr. Sophie.  They take turns feeding him, giving him water and hiding treats to challenge him in the indoor stall.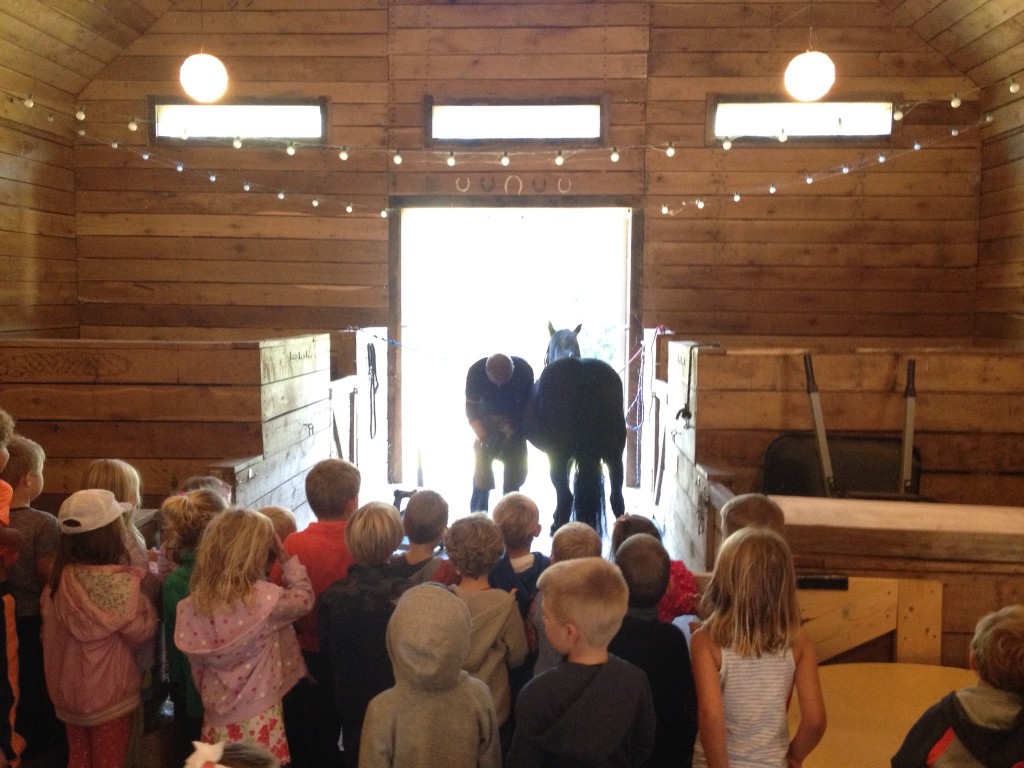 During the Mon/Wed/Fri morning class, Mr. Zank, the farrier came to trim the horses hooves.  He comes every 8 weeks to clip and file their hooves, just like human nails, the hooves need to be trimmed.
We have a great playground with numerous opportunities for gross motor activities, creativity, practicing sharing, meeting friends and exploring.   We have many options for the students but one of their favorites are the sandboxes.  They also enjoy exploring and looking for bugs/ toads.  Another highlight is hanging out with the teachers.  When the bell rings, we clean up our toys and line up on the green line.  After that, we do our outdoor activity which we always enjoy!
One of our favorite outdoor activities is walking to the barn and feeding the animals.  The animals enjoy the attention and getting a nice snack from the students.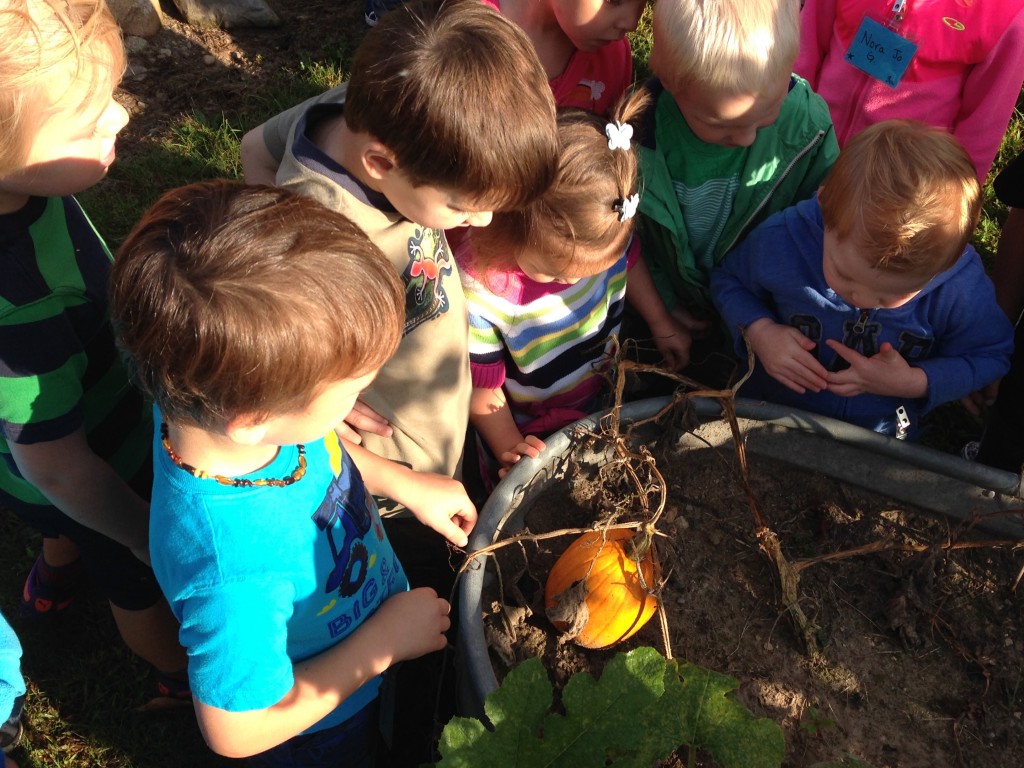 Everyone likes to check out what is growing in the garden.  The summer camp students planted the garden in June.  They planted radishes, carrots, pumpkins, sunflowers and zucchini.
After we feed the chickens we like to check for eggs and we also enjoy playing "red light, green light" to practice listening and work on gross motor skills.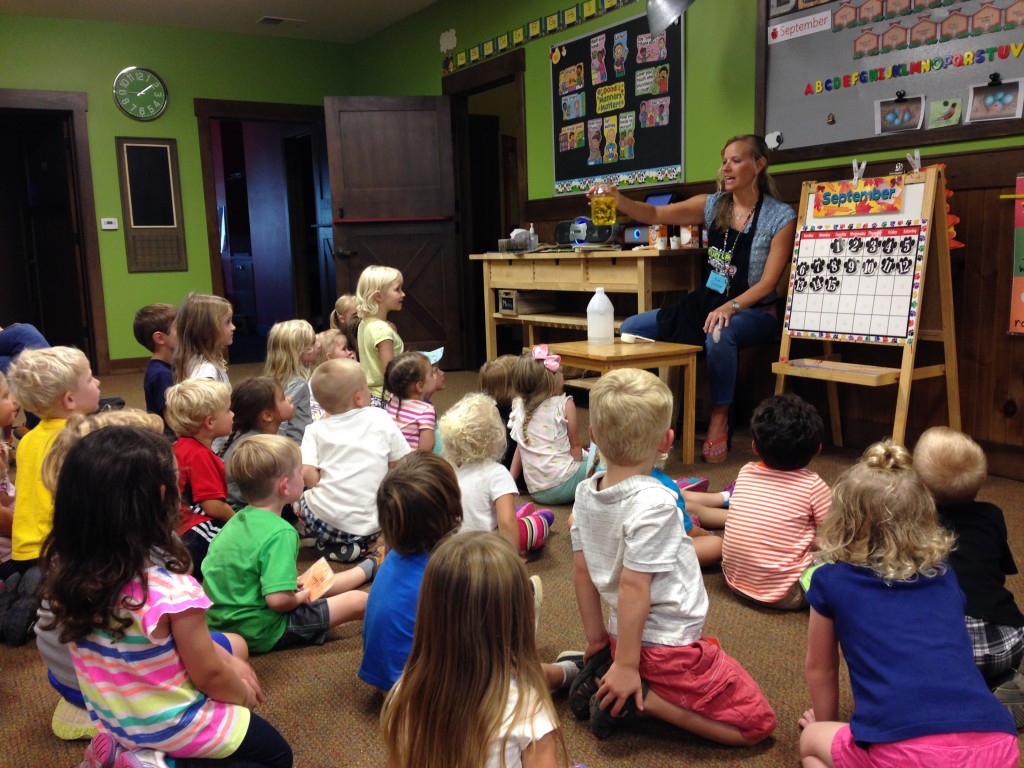 We love doing science experiments.  This is the "hopping corn" experiment.
During the first week of school our Young Fives students made Pete the Cat head bands.  If you haven't read/ listened to Pete the Cat before, we recommend that you do.  We especially enjoy the Cds that go along with the books.
We have had a wonderful month of September, thanks for sharing your children with us! We enjoy each and every one of them so much!
-Canterbury Creek Staff